In 2009, LISD school board which at that time included Lisa Ellrich VP Gallagher Construction (a school construction firm), voted to take Ms Gibson's property through their power of eminent domain despite LISD's architect telling the school board they did not need to take Ms Gibson's land in order to build an elementary school next door.
LISD School Board members, Rick Hickman (VP Bank of America), Mike Guilbeau, Ann Casey, Elena Westbrook, Julie James & Lynette McDonald, Chad Collins voted to force a Vietnam veteran's widow out of her home in Lucas two days before Veteran's Day.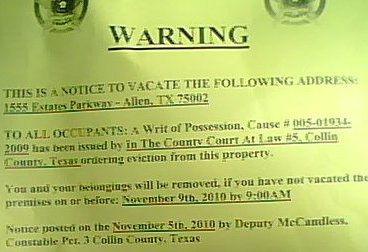 LISD demographer, Dr. Pat Gusman, stated at the Dec 14th, 2010 school board meeting that LISD will not need another elementary school until 2018, yet LISD is forced a Vietnam veteran's widow out of their home of twenty years, BEFORE her Feb 14, 2011 court date, threatening to take her meager belongings if she did not leave.
Lucas - Lovejoy ISD eminent domain case went to jury trial Feb 14, 2011. Case #005-01934-2009
WHY THIS PROPERTY WHEN GROWTH IS TO THE SOUTH?
Dennis Womack, LISD asst superintendent stated at a public meeting that all the district growth was to the south by Seis Lagos.
Why then would the district by property north of their southernmost elementary, Hart Elementary?
The traffic on 2170 (Estates Parkway) is already bad to the high school. Why would you add elementary traffic to an already congested road?
Christine Gibson's property is marked in relation to other existing elementary schools.

PROPOSITION 11 STATES PRIVATE PROPERTY CANNOT BE TAKEN FOR ECONOMIC DEVELOPMENT
IT DOESN"T COVER THE ECONOMIC DEVELOPMENT OF THE PROPERTY NEXT DOOR....
Coincidentally, the property next to land condemned by LISD is owned by LISD athletic director Jim Bob Puckett's father-in-law, Mr. Strong who is a developer/builder in the Lovejoy ISD area.

Update 2011:
In 2011, Mr. Strong annexed into the City of Lucas and plans to develop his property next door to Ms. Gibson's condemned property that is now cleared of her late husband's Welding Shop and her mobile home.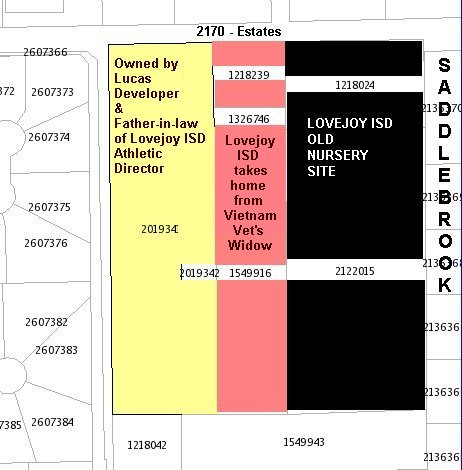 Please read here to help connect some dots..... www.lovejoyschools.com/#CommercialOpp
LISD contacted Channel 11 news and stopped the story from being aired along with Channel 8 with this press release.
For Immediate Release
November 8, 2010
Lovejoy ISD has purchased the property at 1555 Estates Parkway through the process of eminent domain for the purpose of constructing a new Lovejoy ISD elementary school. After a hearing on October 12, 2009, the court-appointed Special Commissioners determined that the price to be paid was $501,732. Lovejoy ISD deposited this amount with the court on November 6, 2009. Upon deposit of those funds, Lovejoy ISD had the right to possess the property it purchased. The property seller withdrew those funds from the court on December 9, 2009 and has been enjoying the use of that money for almost a year.

Although the seller has withdrawn and possessed the District's purchase money for almost a full year, she has not yet vacated the property. The District has until recently allowed the seller to remain on the property purchased by the District in 2009, despite having no legal obligation to do so.

As the District needs to proceed with development activities

and the seller has refused to vacate the property for which she has been paid for almost a year, the District has sought court intervention and assistance from the Sheriff's Department to secure the peaceable transfer of possession of the property purchased by the Lovejoy ISD taxpayers for $501,732.
Many important facts were not included in LISD's press release.
The withdrawal of the $501,000 is considered NORMAL operating procedure, and Ms. Gibson was directed to do so by her attorney. It was LISD's payment for her property, (whether she agreed with the price or not), it was final unless she took them to court. She had to pay for her attorney to go to court to get FAIR market value for her property…and since she lost her job with LISD's attorney due to LISD taking her home, she had to eat. Most would not consider that "enjoying" the use of money.
Her life was completely disrupted, she lost her home and her job, because she happened to own land that four people wanted, not needed.
In the beginning.....
LISD originally offered Gibson $400,000 for her property and threatened her with utilizing Eminent Domain if she did not take the offer. She refused the offer.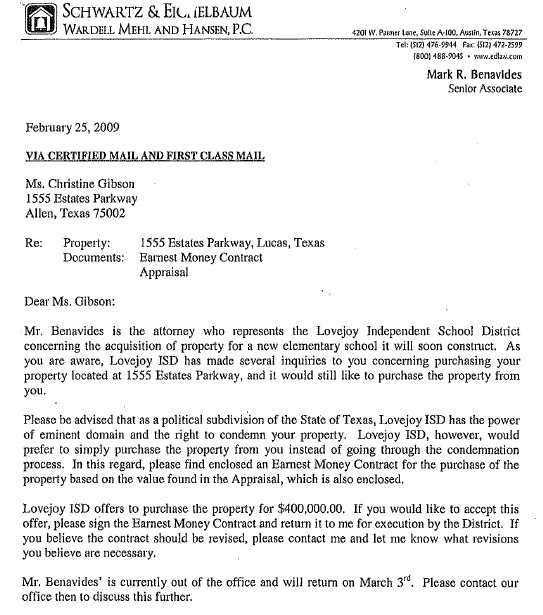 Ms. Gibson wisely gets an attorney AT HER OWN EXPENSE and LISD ups the offer...but threatens that the "Special Commissioner's" award might be less.
LISD feels comfortable making this threat because the Commission is truly "SPECIAL", consisting of 3 members, one of which is EX-LOVEJOY-ISD School Board member, John Helm. (More on John Helm here)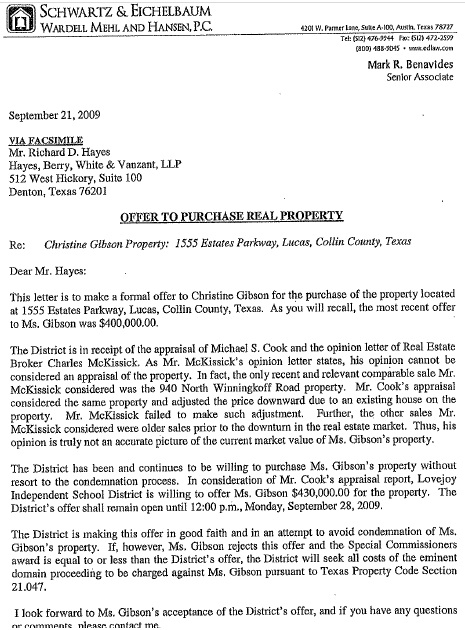 The LISD architect met with the LISD school board and told them it was not necessary to take Ms. Gibson's property in order to build an elementary on the property next door already owned by LISD.
June 25th, 2009 the LISD School Board voted to take Ms. Gibson' property, not because of need, but because they can.
"FAIR" MARKET VALUE?
LISD assigned LISD ex-school board member, John Helm, to a panel of three which provided an "impartial" opinion on appraised value. Lovejoy ISD paid Ms. Gibson what the panel deemed to be a "fair" amount.
Then the commissioner panel which included John Helm, ex-LISD school board member, decided the value of her property was $501,000, deposited that money and as far as LISD was concerned it was final.
Oct 20th, 2009 The LISD School Board UNANIMOUSLY approves the Resolution to Authorize Payment of Damages and Fees in Eminent Domain Suit. LINK
The LISD School Board plus a few community members started a character assassination campaign against Ms. Gibson once community members started to ask questions. LISD Superintendent Ted Moore told several members in the community that LISD and Ms. Gibson had a deal, but she backed out of it. A public information request, for ANY document that Ms. Gibson signed agreeing to sell her land, came back stating "there are no documents pursuant to your request".
Ms. Gibson NEVER agreed to sell her property and the school intentionally lied to the community.
9am, November 9th, Lovejoy ISD sends a constable, the LISD attorney, and two LISD admin (Dennis Womack & Donna Washburn) to force the home owner off of her property before she even has a chance to go to court to fight.
The constable was a real gentleman, and should be commended for his handling of this very difficult situation.
Ms Gibson packing up the rest of twenty years to move off her property while Lovejoy administration and LISD attorney look on.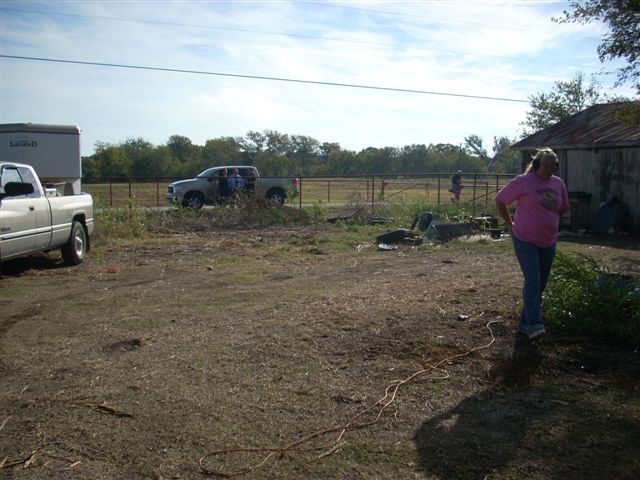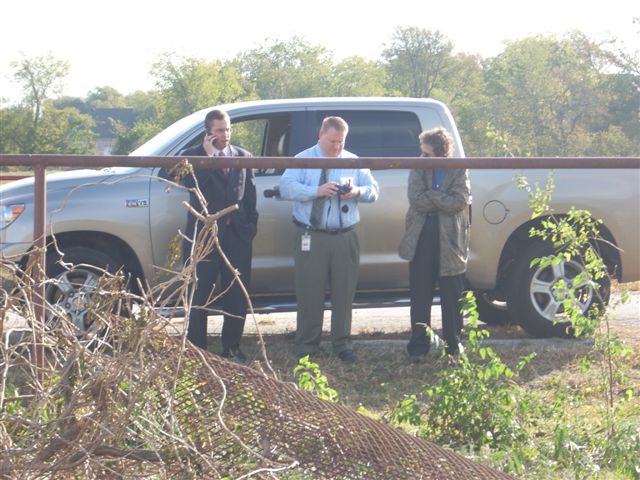 LISD admin enjoying a cup of coffee while watching Vietnam vet widow forced off her property.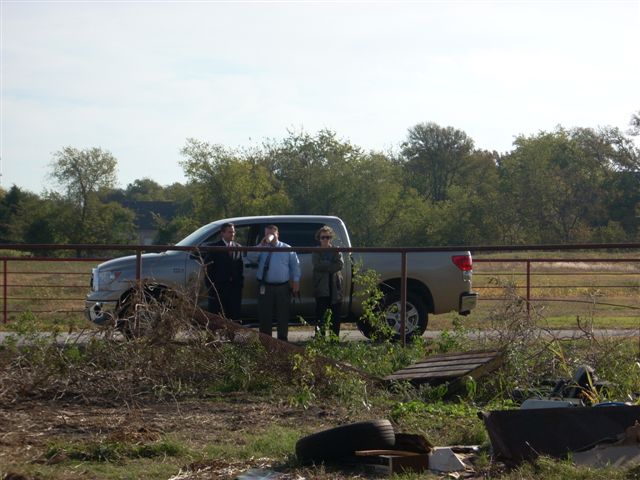 Forced out..

Exactly HOW does Lovejoy ISD HONOR THOSE WHO SERVE?
Ms. Gibson had to attend a COURT ORDERED mediation session and she refused to sign the memorandum of settlement despite her attorney's advice to do so.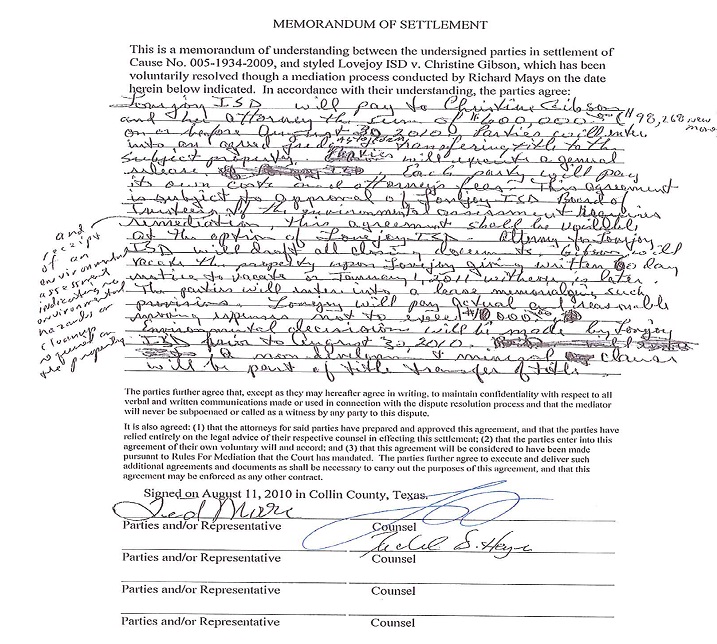 LISD leveled her property, took pictures of raw land which they used to influence the jury to lower the valuation of her property. (raw land rather than a home with a humble abode and workshop)
Gibson's attorney was told that the LISD architect said LISD did not need the property and he responded that in this case they did not have to show need!
In the end, after a long fight, a jury awarded Gibson $661,000, 40% more than what LISD tried to take it for. There is no compensation for attorney fees, loss of job, loss of time, stress or sentimental value. Christine Gibson did not "enjoy" the process or the money.

In their press release, LISD completely distorts the reality of Eminent Domain.
Four people can vote to take your home;
without real need;
have their buddy appointed to a commissioners panel to determine what they pay you;
write you a check for what THEY decide your property is worth;
kick you off your property;
ALL before your day in court.
May 2012
Remember LISD's Press Release explaining the NEED to force Ms. Gibson off her property because "As the District needs to proceed with development activities ".
Current occupant of Ms. Gibson's property is this fellow....belonging to Jim Bob Puckett's (LISD Athletic Director) Father-In-Law.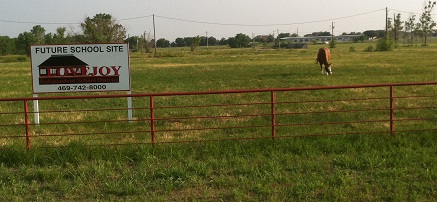 If Lovejoy ISD comes after YOUR property next, here is an Eminent Domain Abuse Survival Guide.

Texas Farm Bureau could not be intimidated by Lovejoy ISD and published the story.
http://www.txfb.org/emag/TN/Texas_Neighbors__January_2011/index.html#/6/
More on eminent domain abuse..
http://www.txfb.org/newsmanager/templates/EminentDomain.aspx?articleid=4236&zoneid=86
A Tale of TWO GATES:
A Lovejoy school board member stated that he had never seen the LISD athletic director's family horse on the property and that the district did not want the horse on the property. (Heritage Ranch Candidate Forum April 22nd, 2014)
Photos taken April 24th, 2014
Lovejoy taxpayers see this gate:

This property was taken from a Veteran's widow by Lovejoy ISD using eminent domain. The district kicked her off the property over three years ago claiming they needed it for a school.


Now LISD says they will not build on it. It sits empty…except for the LISD's athletic director's family horse.
This gate giving free access to taxpayer-funded property was put in after the widow was kicked off.
The horse in this picture is standing on LISD property.